There was once a time when the only beer you'd find on the shelf was in bottles. On January 24, 1935, the Gottfried Krueger Brewing Company changed the game by partnering with American Can Company to sell their Krueger's Cream Ale and Krueger's Finest Beer in cans to the public for the first time. These early beer cans were made from steel, and the flat top had to be punched open with a church key. Though unwieldy compared to aluminum cans today, they were a wild success with the public and other breweries quickly began following Gottfried Krueger's lead.
With all the different beer styles out there, it can be overwhelming to sort through the vocab and understand what makes one beer distinct from another. Sure, you probably know the difference in taste between a pale ale and a porter, but when your overly curious work buddy asks you if a stout is a lager, your beer brain suddenly fizzes out. So, we've decided to break down the ABC's of beer to help you understand the complexities of each style. Consider this your Rosetta Stone for speaking the language of craft beer.
For most people, once a beer is poured and slid across the bar, the first step is to start chuggin'. Sure, you may have an appreciation for the taste, but there is a more subtle quality of beer that you might be missing out on. It's one of the most important (and most overlooked) characteristics of beer − the smell.
The interplay of taste and smell significantly affects how our brains perceive flavor. The common perception is that our tongue is the main facilitator of all things culinary, but your taste buds aren't capable of delivering the whole story alone. It's no secret that eating with a stuffy nose leads to a positively depressing dining experience. Without smell, we're left with tasteless filler. It's only when we take the time to breathe in the aroma that we can fully tap into the flavor.

Summer is in full swing and with it comes one of our favorite pastimes: backyard BBQs! It's time to break out the grill and let your friends at Bur Oak Brewing Company help you craft the perfect BBQ.
Craft beer will always be our favorite summertime drink, but sometimes it's fun to change things up! Any party can offer the usual drinks, but we're here to take yours to the next level. We've crafted our very own cocktail recipe and the perfect summer sangria, both of which pair the tangy flavor of orange and the sweet taste of berries. Using our summer brew Lily Ale as a base, both of these drinks have the potential to make any gathering you're hosting a hit with all of your guests. We're loving these new recipes, so let us know if you are too!
Lily Frozen Cocktail:
3-4 servings, pitcher
1/4 orange concentrate
1/4 cranberry concentrate
8 ounces vodka
12 ounces Lily Ale
4 ounces club soda
garnish with raspberries and oranges
Lily Sangria:
1 serving
1 ounce vodka
2 ounces club soda
fill to top with Lily Ale
splash of cranberry
garnish with orange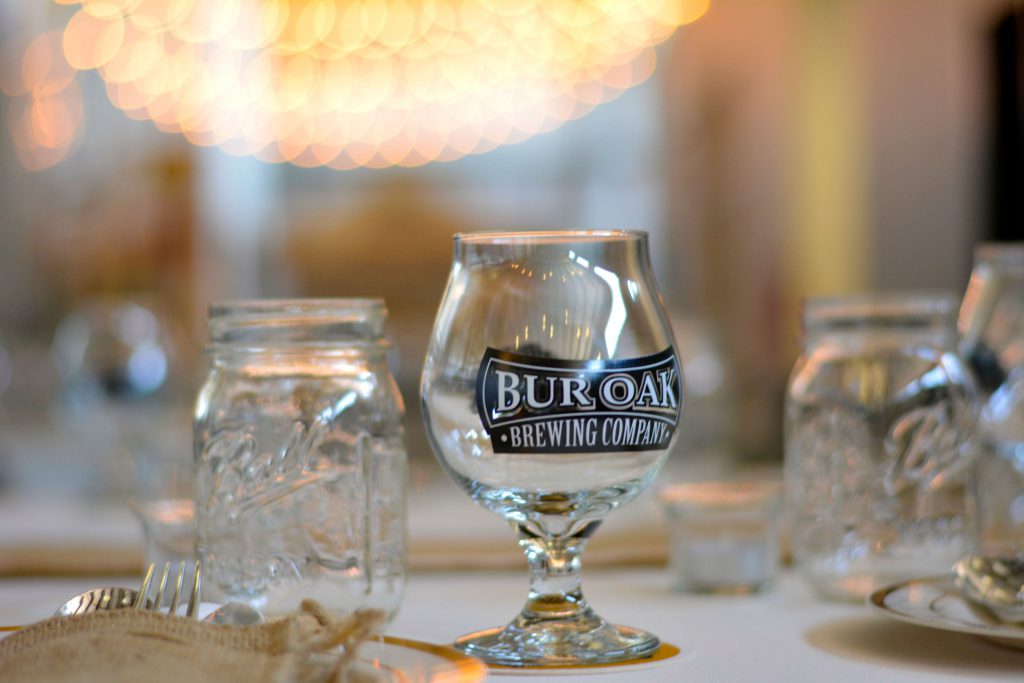 Would you like to rent the brewery for your own special event? Our large, open brewery space and first-class tasting room combine for a one-of-a-kind atmosphere to host your next holiday office party, wedding reception, or company appreciation event.
Fill out our online event info request form to start the conversation!
1 1/2 pounds beef cube steak
1 onion, sliced into thin rings
1 green bell pepper, sliced in rings
1 cup Italian seasoned bread crumbs
1/2 cup grated Parmesan cheese
2 tablespoons olive oil
1 (16 ounce) jar spaghetti sauce
1/2 cup shredded mozzarella cheese
12 ounces angel hair pasta
2 teaspoons minced garlic
1/4 cup butter
Read More
1 pound ground beef
1/4 cup chopped green onion
2 tablespoons hoisin sauce
1 tablespoon Asian-style Sriracha chile-garlic sauce
1 teaspoon Asian (toasted) sesame oil
1/2 teaspoon garlic powder
1/2 teaspoon red pepper flakes, or to taste
1/4 teaspoon ground ginger
salt and ground black pepper to taste
Read More